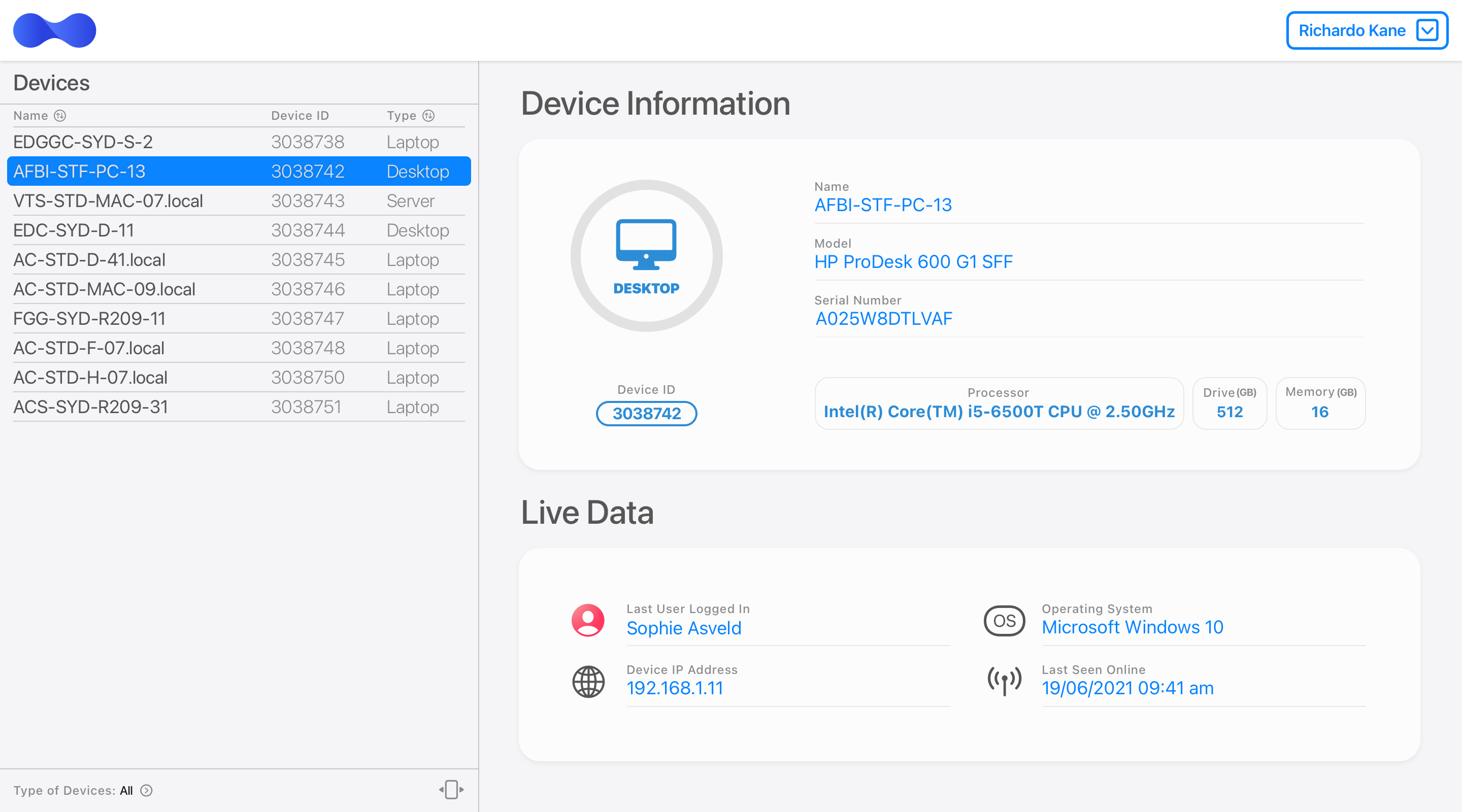 Device information is a powerful tool for any enterprise when managing their IT environment. Information tracking which users are logged in to which device when and from where, which device they're using and it's specifications enables you to monitor and manage working patterns, track assets and maintain optimal productivity.
The Device Module provides in-depth, live and accurate details of workstations, laptops and servers authorised and managed within your clients environment. Integrated functionality with the Users Module enables portal users to identify which devices are associated with which of their team members, further identifying when last in use, IP addresses and other significant verification details of their assets.
Collate your client RMM critical real-time data in a simplified interface enabling visibility and transparency strengthening business relationship.
Integration with the Users Module enables further in depth associations between devices and team members.
Compliance and governance – client visibility to audit, direct knowledge of their devices – location, used, asset register information.
Automated and defined systems and processes reduce potential of errors and time spent on admin tasks.
Visibility by the client at all times reduces potential over billings – they can see who is on the list to rectify any missing or extras.
Client security permissions in place ensures no unauthorised changes can be made.
A further essential security enhancement being introduced to combat the growing Identity Theft cyber threat, is the requirement that Users be added and/or removed via the Client Portal – a new, secure and automated process.
Only those portal users with authority to make such changes will have access to do so within their Client Portal.
This removes any potential threat of unauthorised additions or removals over the phone or via ticket being carried out inadvertently by MSP staff.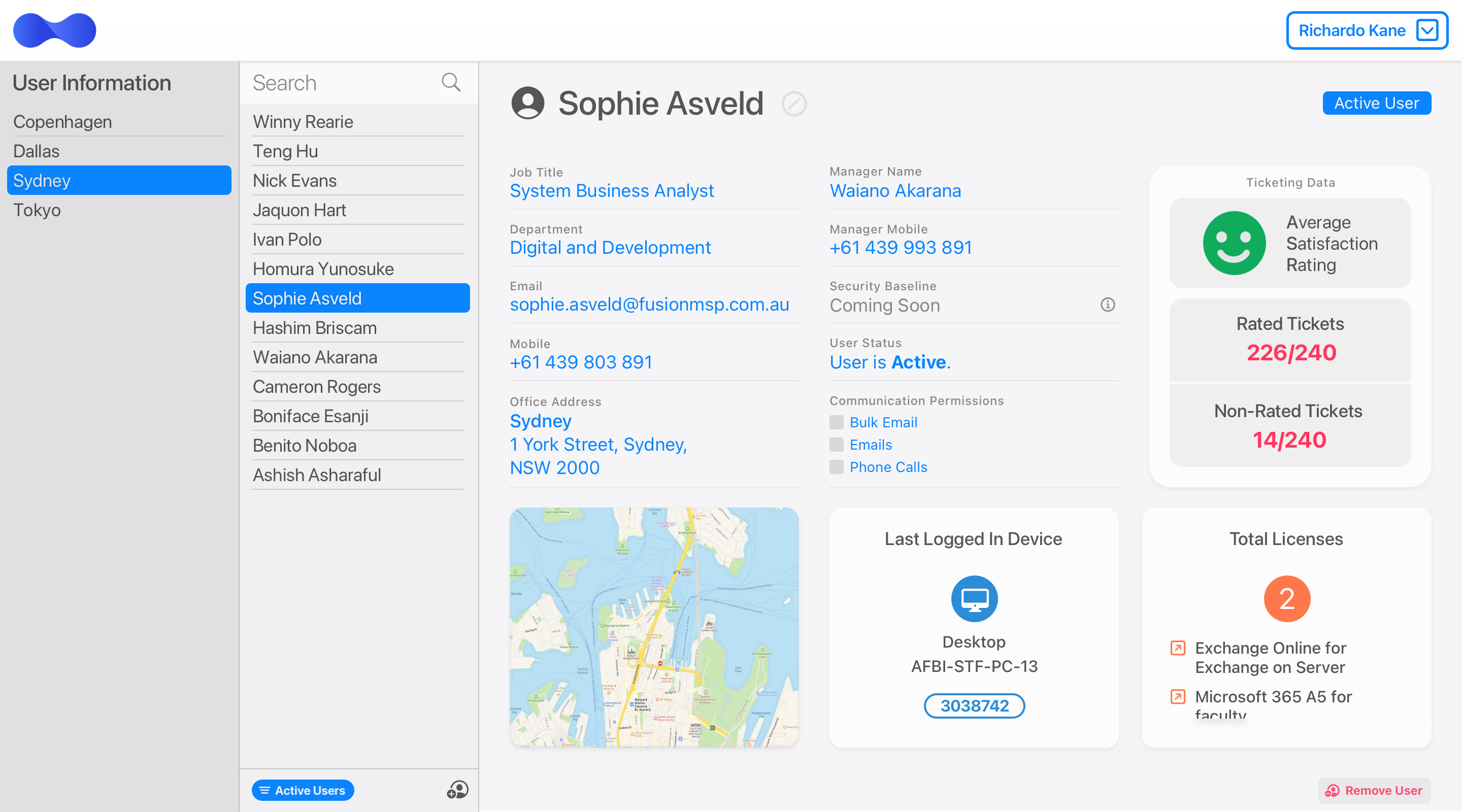 Provides essential information required to take advantage of tools boosting productivity and staff work-life balance.
More stringent controls without sacrificing end user flexibility.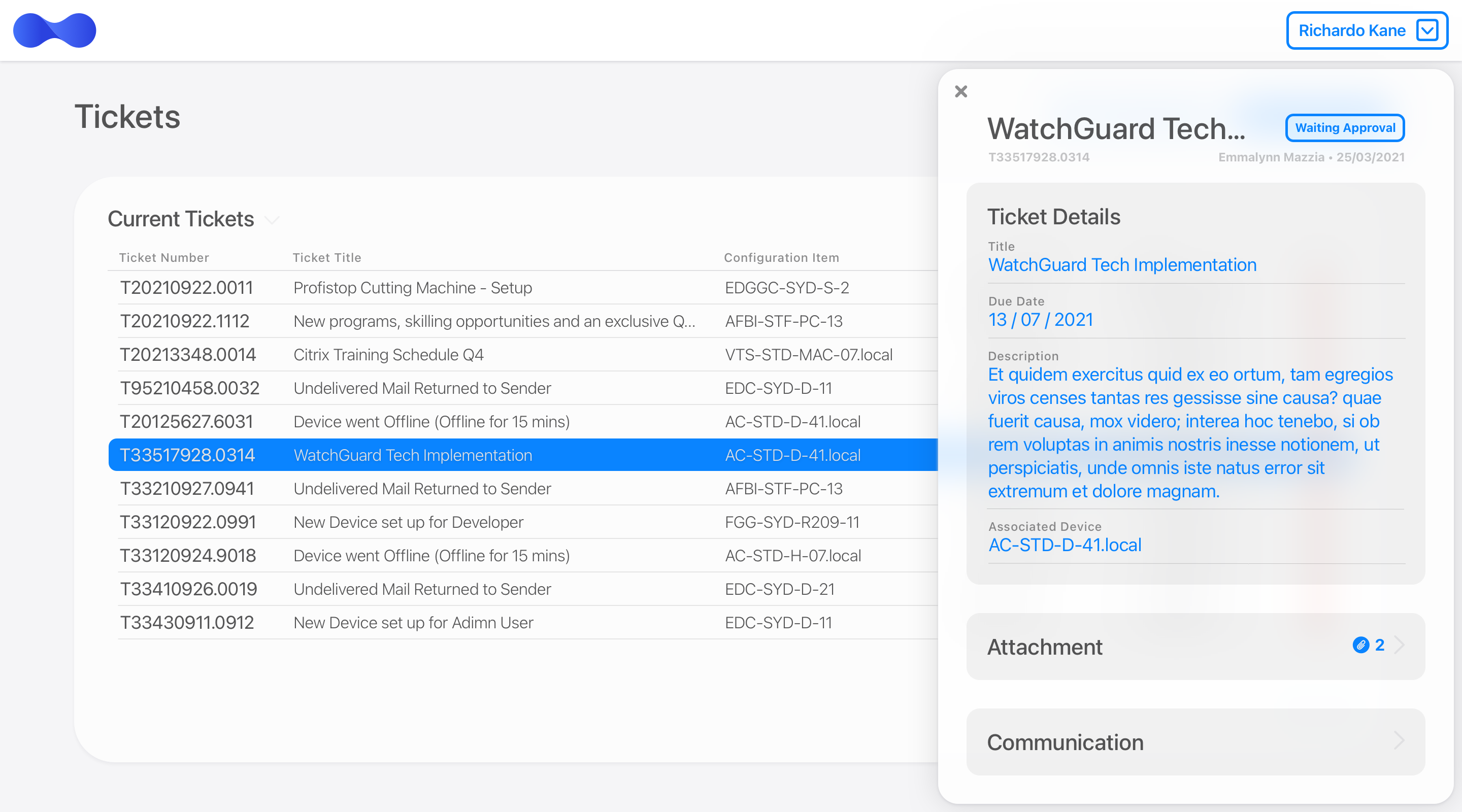 The Ticketing Portal has been specifically developed to centralise the lodgement and tracking of IT service requests, as well as compiling and maintaining a history for your future review.
The Ticketing Portal will retain an auditable history of tickets lodged – with individual users seeing their tickets only, and managers able to review all tickets for the business.
Have your clients lodge their tickets directly. No phone calls or emails required – direct interaction from the customer through portal.
Support issues are pushed to your ticketing system already linked to the user and device saving valuable tech/eng time having to ask/research.
Provide a valuable communication tool for further information and updates between the tech team and the client – fully traceable and reportable.
Transparency for clients and reportability on multiple levels enhancing the business relationship.
Automated processes and systems enhance MSP profitability through reduced staff handling – less potential for errors, less double handling, more upfront information enabling swifter resolution – all improving the client experience.
With the heavy reliance on technology to unlock and maximise our business potential, entities are deploying more and more software applications into their IT systems to facilitate business growth, data streaming compatibility and reporting functionality.
Each of these new software applications eases the pressures on staff workload, but often results in heavy recurring licensing costs that need to be reconciled and managed to ensure maximum profitability.
The Licenses Module provides portal users enhanced management and monitoring capabilities through a range of valuable features:-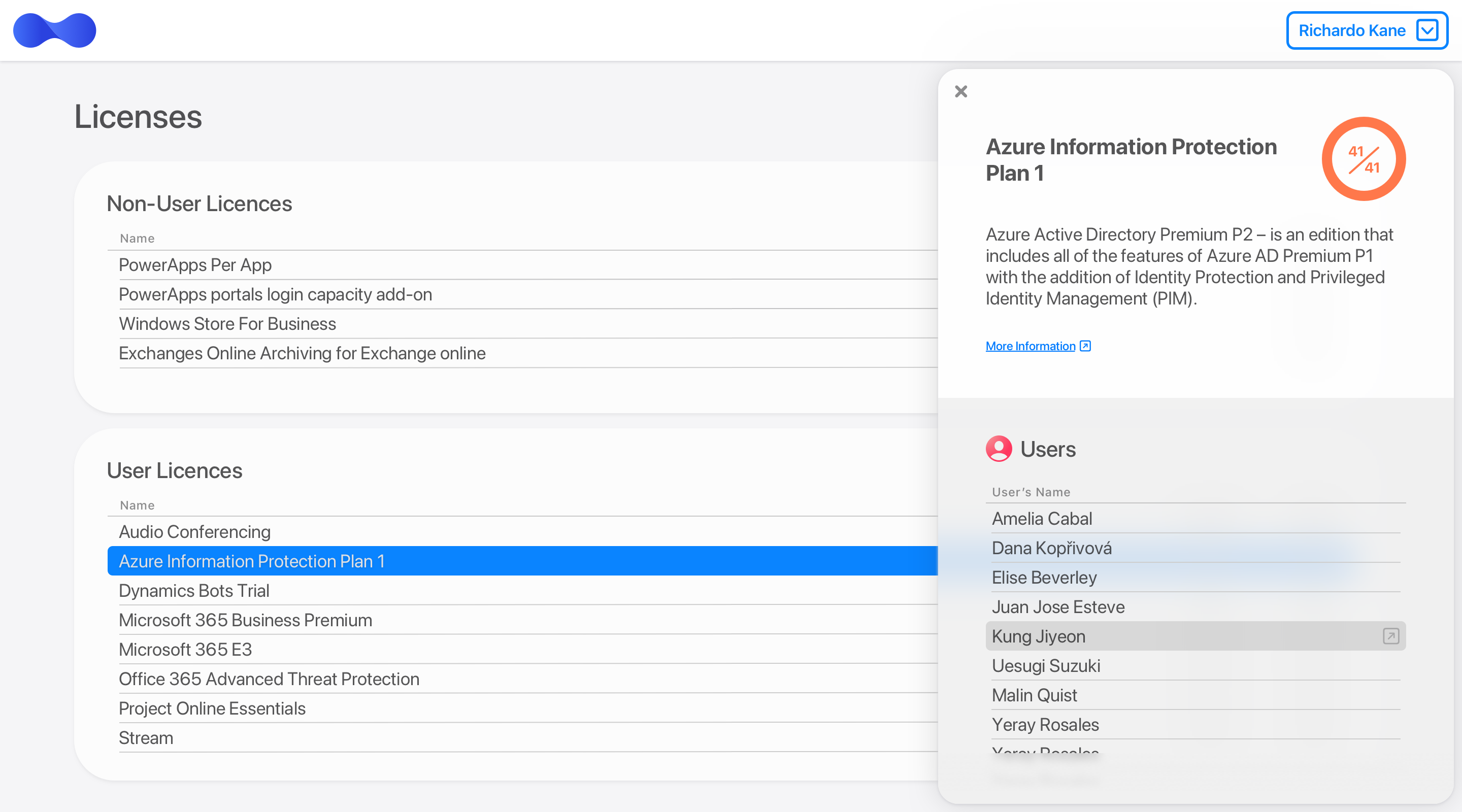 Comparison of the number of active MS 365 Licenses vs active users – vital security measure protecting data and systems by highlighting whether inactive licenses have been removed so that no unauthorised access is possible.
View MS 365 Licenses active across the whole business, as well as at an individual user level.
Review active licensing within your business to ensure new users are appropriately licensed and ready to go at commencement rather than potential costly downtime later.
Cost tracking - match your user lists to your invoices – full transparency available.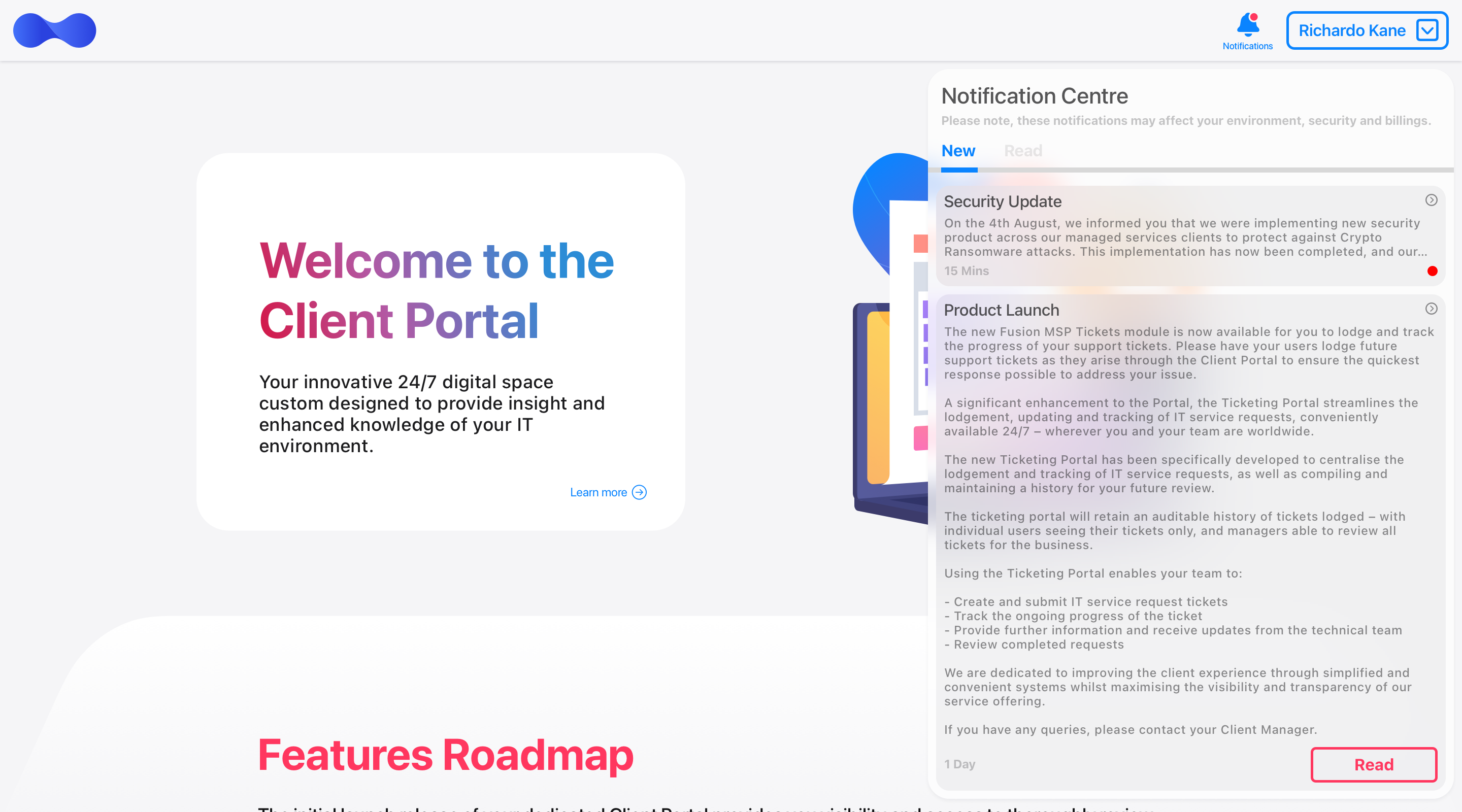 Designed to facilitate improved trackable secure communication with clients regarding services and changes that may be required to be made to the client supported environments.
For each communication item, an email will be sent advising there is a new communication in the portal Notification Centre. The communication item status will remain unread in the portal until users log in and read the information contained. Once read, the item will be held in the portal history to enable future reference or can be pushed back by users to "unread" for further review and/or action.
Links can be embedded to a notification requiring further action to be taken if desired.
Customised user access permissions for the key client contacts only.
Bulk or selected notification blasts available – choose all clients, individual client or by single contact only.
Single centralised location recording all current and previous notifications for review and reference.
Audit tracking maintained and logged for visibility and proof of when users read and/or mark the notifications as unread.
Valuable critical legal coverage and risk minimisation ability for MSP's.
Devices

Users

Licenses

Notification Centre

Ticketing

Proposals - Storage Only

Contracts - Storage Only

Invoices - Storage Only

Proposals - Automated Generation

Contracts - Automated Generation

Invoices - Automated Generation

Reporting - Tickets

Reporting - Customer Satisfaction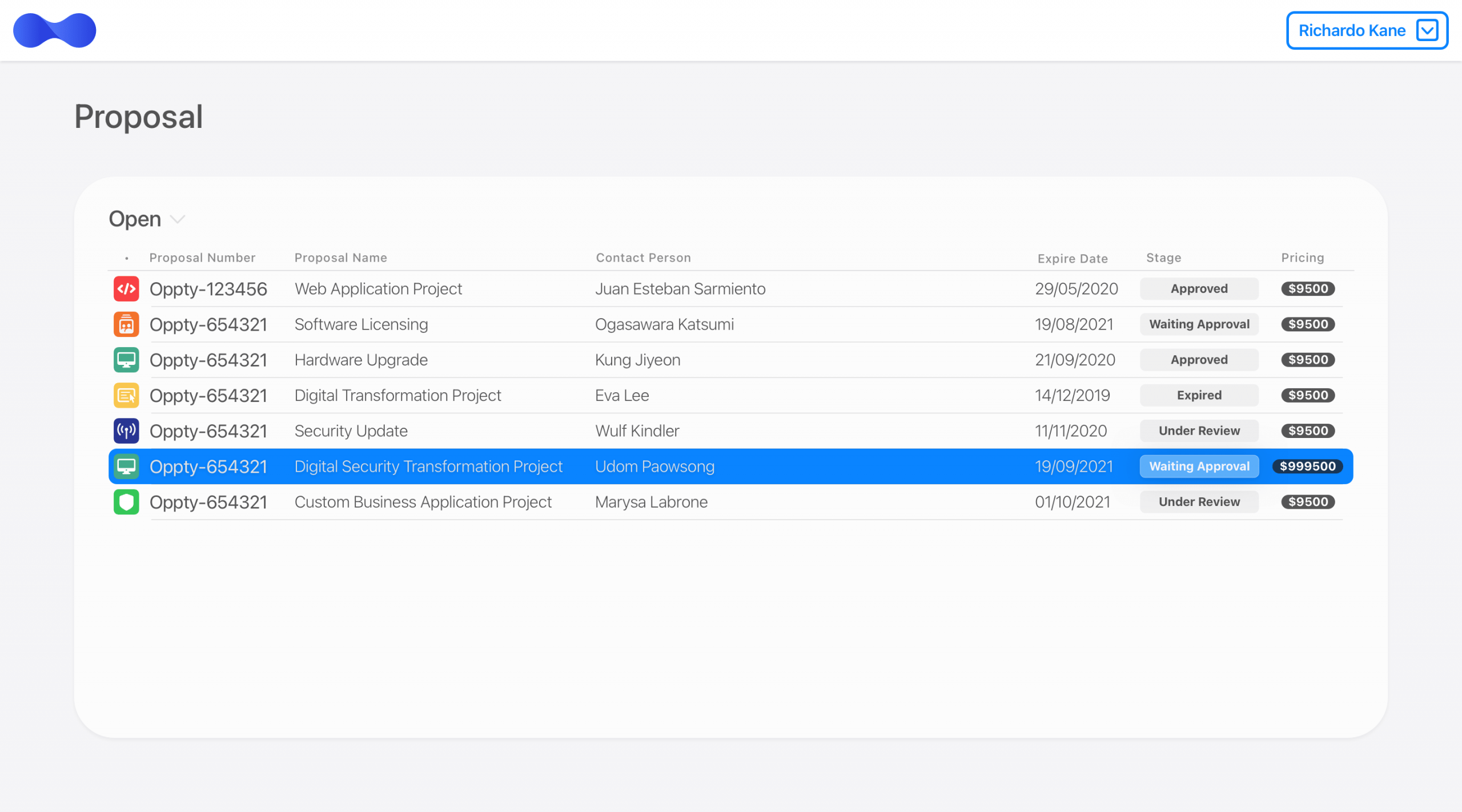 Providing your customers with on-demand access to their historical IT related quotes. 
Customisable user access permissions 

 

Ability for clients to review and download if and as required

 

24/7 Global availability to securely stored critical documents   

 
Embracing the era of digital storage, the Contracts  Module securely stores and presents your important client legal and financial documents. 
Customisable user access permissions 

 

Ability for clients to review and download if and as required

 

24/7 Global availability to securely stored critical documents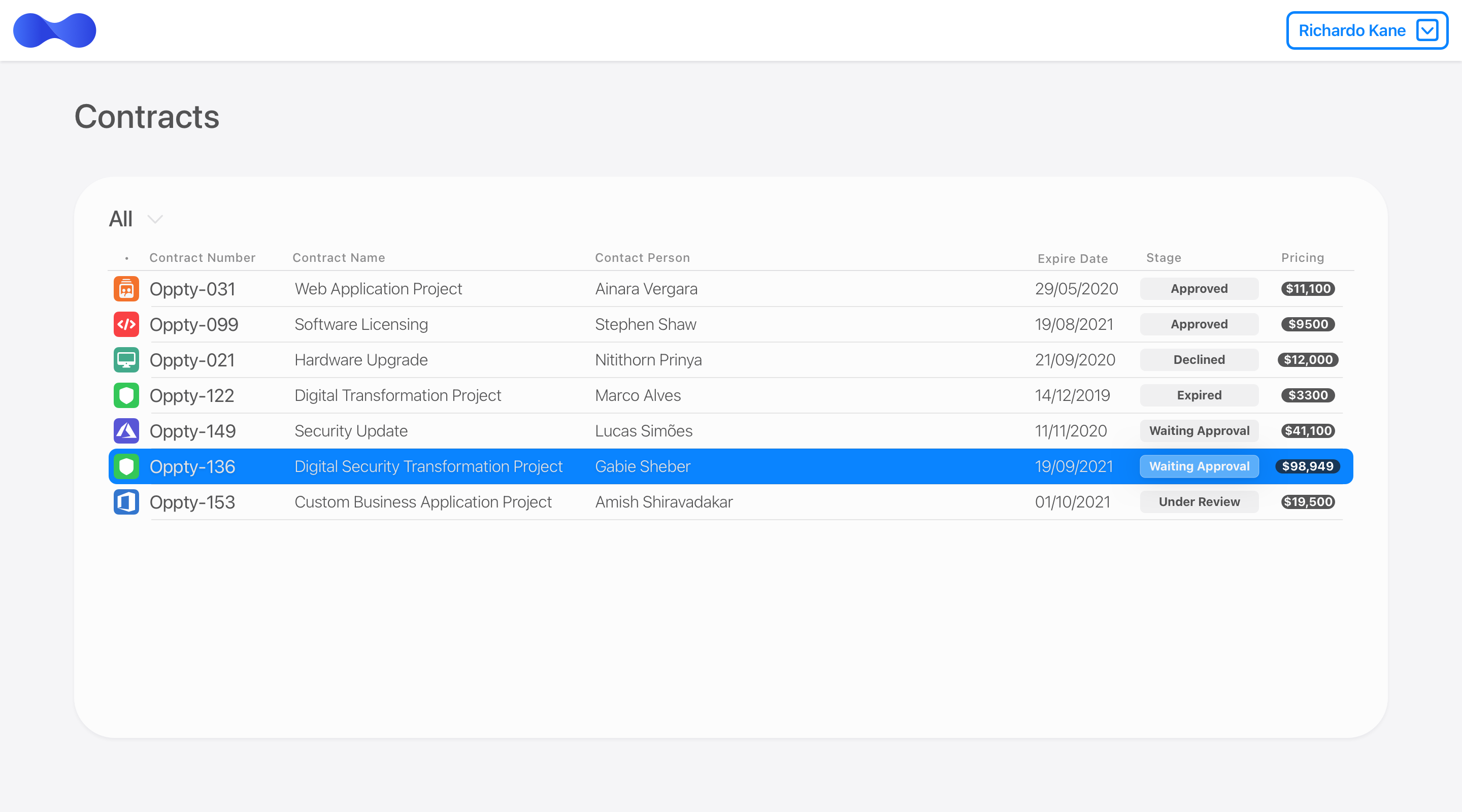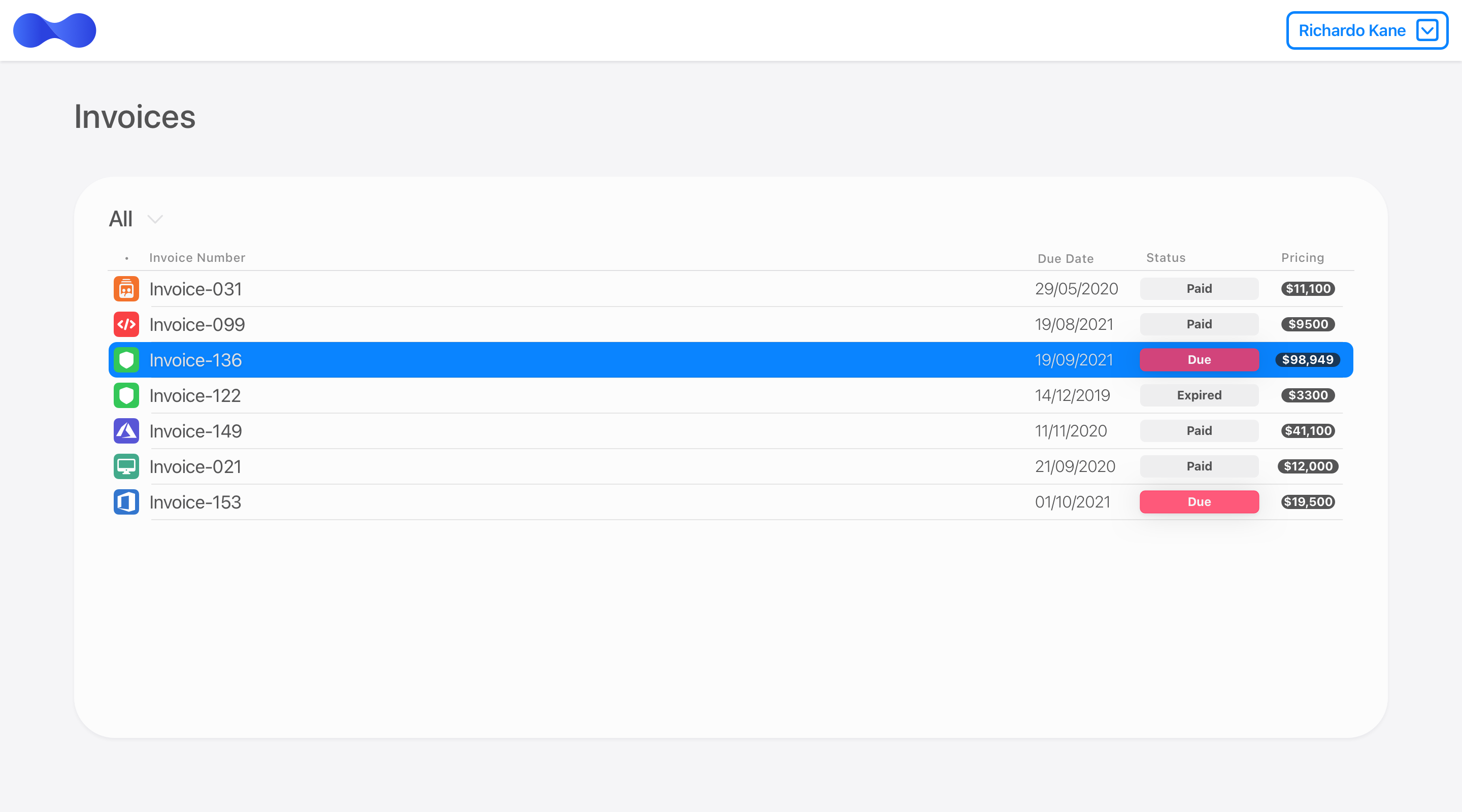 Ensuring compliance with the ATO regulations is a critical aspect of any business. The Invoices module provides simple secure access to all new and historical client tax invoices in one simple and conveniently accessible location.
Individual user permission settings – clients choose who in their team has this access
Securely stored critical documents
24/7 Global availability